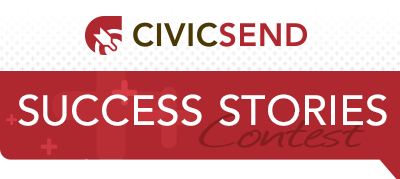 We had an awesome turnout for the Building Your Opt-In Email List webinar last week. If you didn't get to attend, feel free to watch the recorded webinar.
We focused on best practices in getting citizens to opt-in to your email communications, as well as practical tips to increase your subscribers.
Here are just a few of the takeaways from the webinar:
Get cross-promotional ideas you can implement today
Learn about multiple collection-point assessment
Discover the power of relevant content
---
We also announced our new Success Stories Contest. The goal of the contest is to put some of the tips, tricks, and ideas shared in the webinar to use. Or, if you've done (or are doing) something mindblowingly awesome to build your email list, you'll want to enter the contest to share those inspiring ideas with your peers (and yes... there's a prize involved).